Picking a good kids camp can be a bit daunting because trying to find the perfect camp that checks all your boxes can be difficult, and there's so many great choices around the Greater Vancouver Area! A good kids camp can come in many shapes and forms, however there are always a solid set of criteria to make sure your camp choice meets before sending the young ones off for the day, night, week, or entire summer! Here is a list of the 5 most important things to consider when looking for a good kids camp near Maple Ridge, BC!
1) Camp Type/Timeline
There are many options of camps to choose from but the first question, aside from budget of course, is what is the family timeline? Is your family looking for a day camp, overnight camp, or summer long camp? There are benefits for all of them of course, but your key to success is determining which camp would fit your family's needs best!

Day Camp
Day camps are extremely ideal for first time campers! If the young ones are still in their homebody phase, a little too young for overnighters, or just prefer not spending a full night away from their cozy beds, day camp is the perfect choice! Don't think just because they're not bunking up with new friends that a day camp can't be the foundation to long-lasting friendships and endless smiles, it really can! Even if it is just a single day camp, or even a multi-week daytime camp it's a perfect opportunity for kids with similar hobbies and interests to meet and bond over fun activities and games! There are so many options of incredible day camps in the Maple Ridge area and near Vancouver to meet your family's needs!

Overnight Camp
When most people think of overnight camp, they probably think of the most traditional out in the woods, cabins, campfires, and sing-alongs kind of camps! Well, they're not wrong, there are many options for a more 'traditional' style overnight camp and a more modern approach close to Maple Ridge! Aside from a much needed break for parents, overnight camps boast an endless list of benefits for kids. They promote independence and individuality for kids. Overnight camps are a great option for those families looking for a more intensive experience to immerse their kids in with endless amounts of fun!
2) Interests, Hobbies, Camp Themes
After you've decided to ship the kids off for a long time, or just for the daylight hours, it's time to select which camp meets the most important checkbox of all, the camp's theme! Are your kids super athletic and itching for a day of basketball drills and skills? Or are they looking to get in touch with their more artistic side, spending the day with a canvas or pottery wheel! Either way, there are many camps near Maple Ridge that can suit your child(ren)'s hobbies and interests!
We of course recommend a camp that can incorporate elements of play, learning, and adventure in both an indoor and outdoor setting. It's important to get the kids moving throughout the day so they're not coming home exploding with energy right before bed! Ensure you find a camp that can either spark interest or develop their skills in a subject, topic, hobby they desire! That being said, if your kid is a happy little generalist and keen on all things fun, find a camp that has a good balance of indoor and outdoor elements with added learning and skills development so they can take even more than just laughs and friendship away!
3) Camp Staff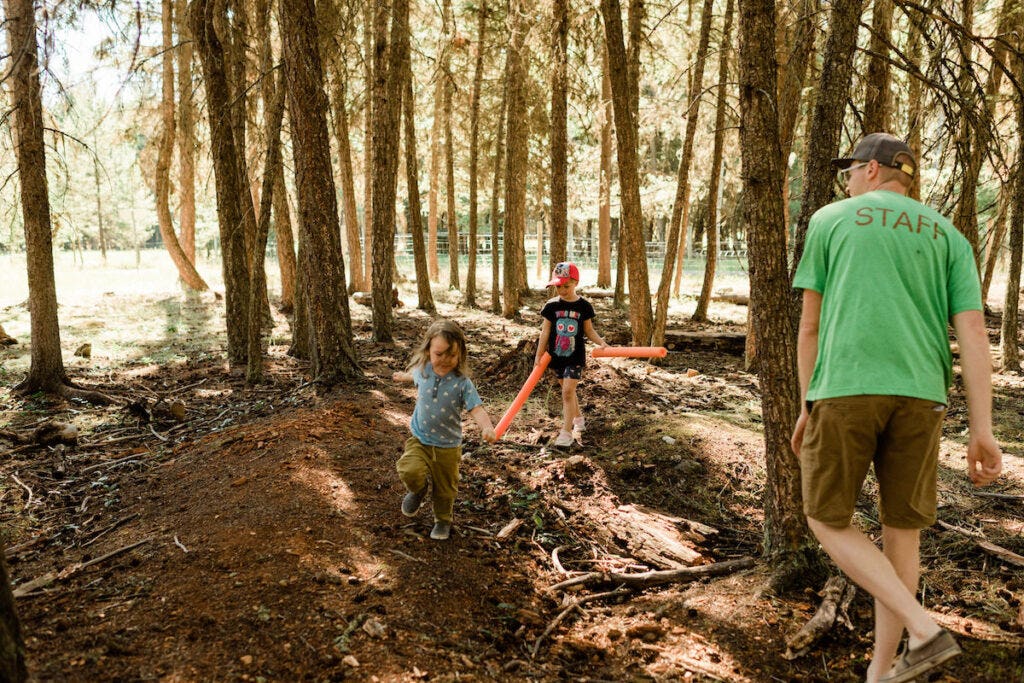 If your kids loves the outdoors, it's important to find a camp run by like-minded, responsible individuals. Although there are many options of camps, finding a camp that has highly trained staff that are not just amazing with kids, but also share passion for the same interests is key for a good time! Having well-trained staff in a subject can be very important, especially for the highly popular STEM (science, technology, engineering, and mathematics) camps to allow for kids to ask open ended questions and bond with likeminded, passionate mentors.
4) Location
Location, location, location. If you're sending your kids to a fun filled day camp, you'll probably want to make sure it is a day camp near Maple Ridge. Luckily, if your kids enjoy the outdoors, there are plenty of nature camps near Vancouver and into the Pitt Meadows, Maple Ridge, and Lower Fraser Valley Area! If it is a day camp, the closer the better, for those overnight trips, ensure the location is a comfortable one for the kids. If they aren't ones to 'rough' it out in a 100+ year old cabin, maybe look for a newer, updated camp for them!
5) Atmosphere and Activities
Most kids will have fun with their already established friends by just using their imagination and coming up with fun games out of thin air! However, going to a new camp can be scary for kids, especially when they're going in alone. It is super important for your family to consider what kinds of activities are being done, do they promote friendly interaction, and will they get your kid out of their comfort zone? You want to make sure that the atmosphere of the kids camp is supportive for newcomers and facilitates friendship and fun! A camp can easily have a catchy name so it's important to dig a little deeper and find out what kind of events the kids will be partaking in to decide if that kind of environment would be good for your kid(s) or not!
Be sure to check out all of the camps and programs Wild & Immersive has to offer. Wild & immersive offers a range of camps from single-day, multi-day, and overnight. All of Wild & Immersive programs are outdoor-educational based and are led by highly trained staff. Most importantly, all of our camps incorporate a diverse mix of games, hands-on activities, adventure, and fun! Contact us today for more information.
We hope to see you soon!
By: Andrea McDonald